Written By: Al Edenloff of the Echo Press | 3:30 pm, Mar. 17, 2021
Same plan, different site.
That's the latest on Kalon Prep Academy, a new tuition-free charter school that plans to open in Alexandria this fall for students in ninth through 12th grade.
The Alexandria Planning and Zoning Commission approved the school's conditional use permit Monday night, March 15, allowing it to lease space in the former Fingerhut/American Spirit building at 1910 Aga Drive. The site is expected to be approved by the Alexandria City Council on Monday, March 22.
That's a change from January when Kalon Prep Academy received a permit to use part of the old Kmart building on Highway 29 South. As it turned out, the site would have been too expensive to remodel and the school wouldn't have been able to meet its timeline, according to Chris Kragenbring, director of the academy.
The latest permit, unanimously approved, allows a 20,000 square-foot school with classrooms, administrative offices, gym and supportive spaces and facilities. The building, owned by American National Bank, has a total of 33,865 square feet.
"The new building is fantastic and will work well for us," Kragenbring said.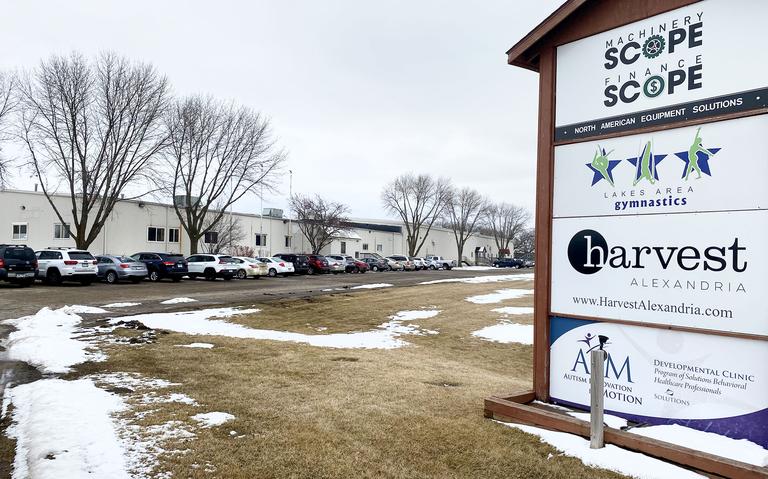 Right now, the Fingerhut building is being used by Church of the Harvest, School District 206 gymnastics center and Schutz Taekwondo Academy. As it turns out, two of those tenants are moving elsewhere , which will make the space readily available for Kalon, according to City Planner Mike Weber.
Church for the Harvest just submitted a building permit application for a new building on 41st Avenue West and the gymnastics center is part of the Discovery Middle School's conditional use permit for a 31,620 square foot building addition.
The school is projecting a potential future enrollment of 195 students and up to 16 staff, which would require 41 parking stalls, according to the permit. The site has enough room for 153 stalls.
Kalon will work with students who are struggling academically. "Kalon Prep Academy is for any student who feels the traditional model hasn't been the best fit for their success," Kragenbring said.
Kragenbring, who has worked for the Alexandria School District for 30 years, has been granted a five-year leave of absence to take the position at Kalon.
Charter schools are funded through the state on a per-pupil basis.
The application process with the Minnesota Department of Education started in October 2019 and was approved last August, according to Kragenbring.
Kragenbring described the school as a strengths based, whole student, college and career focused school. Its mission statement is, "to provide an exceptional campus culture that will foster strong academic achievement integrated with caring adults, relevant experiences and a healthy dose of fun."
Kalon is different from other alternative schools, such as the Runestone Regional Learning Center, because students will have to follow a schedule and incorporate more project-based learning, Kragenbring said.
The school will use a 15:1 student/instructional coach ratio designed to personalize each student's educational journey, Kragenbring said. Kalon will use a blend of on-campus experience with online and whole group instruction.
For more information about Kalon, email kalonprep@gmail.com or go to www.kalonprep.org.